D61B02010206B
CLASSIC 60% COMPACT DESIGN: This DK61E mechanical keyboard has a perfect size and it's good for Home and Office use, without Numpad, more practical for Gamers and Typist, give more space to your desktop

KEMOVE RGB DRIVER: Powerful software editing feat
KEMOVE is the name of our parent company. Our company focuses on the field of e-sport equipment, such as the mechanical keyboard, mouse, RGB mouse pad and etc. DIERYA x Kemove series has been committed to providing high quality and reasonable prices to our customers, striving to provide top quality products with our best prices. DIERYA x KEMOVE store will also provide the first-class service. You will find what you like with good value, which means we are focusing on consumption instead of more profit. We would spare us every effort to offer the best service to you. Kemove will be the best choice to make an easier life for you.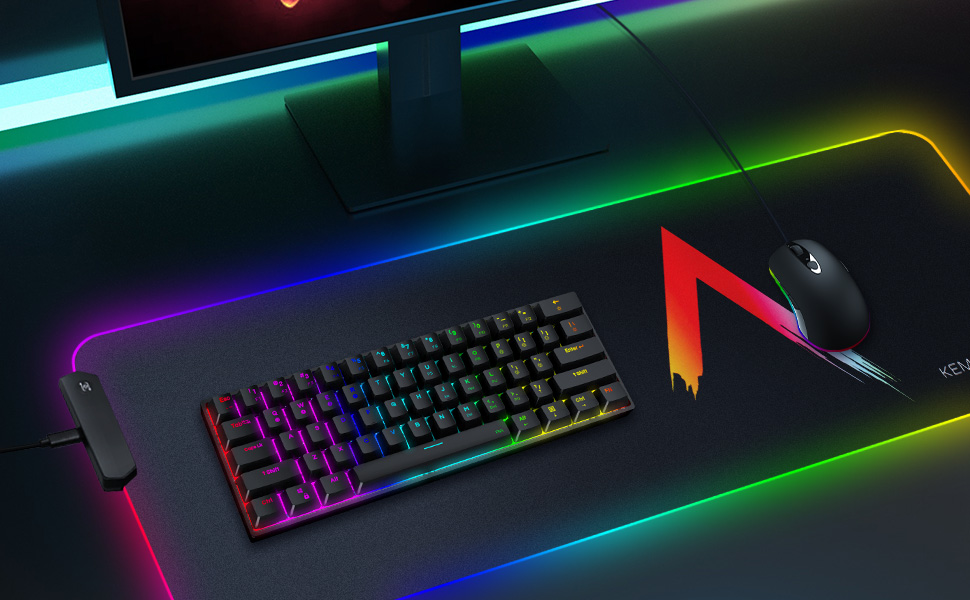 DIERYA x KEMOVE series dedicated software


This keyboard has powerful software editing functions, you can edit and implement any RGB lighting effects and functions you want.
Standard layer: Our normal keyboard, you can customize edit and save 5 RGB effects, in addition, the keyboard comes with 5 RGB effects.
Layer (1-3): You can edit any key in this layer to the key function you need, also you can customize and store an RGB light effect
PS: Layer 2 defaults to the layout of the Apple keyboard, layer 3 defaults to the layout of the small number key
Drive layer: You can be edited online (Invalid when you close the software)

Technical Details:
Keys Quantity: 61 Keys
Type-C Connection Response Time: 1ms
Keycaps: PBT Keycaps
Light Effect: RGB 16 Million Colors
Software Support: Yes
Software Download Link: bit.ly/2mkG2oA
Software Video Tutorial: bit.ly/360BR3t
Package Content:
1*DIERYA DK61 60% Mechanical Gaming Keyboard
1*Pull Key Tool
1*Switch Puller
1* "L" Shape Type-C Cable
1*User Manual
2* Replacement Switches (Different Color Switches)
Hot Videos From Youtube
DIERYA x KEMOVE DK61 Mechanical Keyboard Review: Best Budget Keyboard
Cheap Keyboards Are Getting SOOO GOOD - DIERYA x KEMOVE DK61
THE BEST BUDGET 60% GAMING KEYBOARD ONLY $50!! Dierya x Kemove DK61 Review
DK61 mechanical 60% keyboard review and gameplay test!